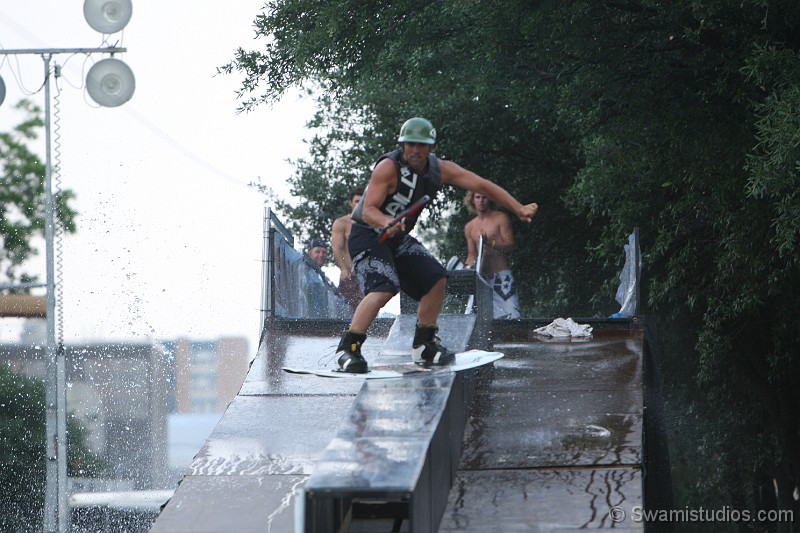 AUSTIN, TEXAS (May 2007) - On Saturday, May 10th, the Texas Wakeboard Tour returned to Austin, Texas for the 3RD Annual Longhorn Rail Jam presented by Malibu Boats and South Point Nissan. This pool-gap rail jam event took place on Trinity Street in the middle of Austin's notorious party strip – 6th Street.
The pro set-up featured a forty foot raised starting pool, a forty foot kicker pool and a huge 30' x 60' landing pool. The raised starting pool featured the forty foot Monster Energy down-rail and was set-up next to the ground level kicker pool. Together, the three pools were filled with over 50,000 gallons of water and the event was pulled by a custom high-speed winch attached to a tricked out Nissan Titan, provided by South Point Nissan.
This event has traditionally featured some of the top talent in Texas and this year was no exception. Thirteen (13) top locals and a couple of invited pro riders were competing for over $3000 in cash, put up by local Malibu dealer – Central Texas Water Sports. The evening started with a live concert in the street featuring Austin Reggae/Rock favorites, Eleven Fingered Charlie. The action got under way at around 6:30pm as seven wakeboarders were split in to two heats with the top two from each heat advancing to the finals. Heat #1 featured Gator Boards pros Kyle Rattray and Billy Garcia along with local Gator slayer, Lucas Snyder. They were joined by hometown favorite, CWB pro Gabe Lucas who finished 2nd at last years event and skipped Carnival to stay home and represent in Austin! Gabe was amped and going for broke from the start, unfortunately, he never stuck the run he needed to advance. After a couple of practice runs and three competition runs each, it was Rattray and Snyder who would move into the finals. The second heat featured Clint Gee, Hank Carter and Australian pro, Scotty Mackey. After a brief rain delay in the middle of their qualifying set, it was Clint Gee and Mackey advancing to the four man finals.
Next up were the wakeskaters and the field was stacked with Texas best. Six riders were split into two heats with the top two in each advancing to the finals. Heat #1 featured Ouray Yarborough, fresh off of a 2nd place finish at Cablestock the previous weekend. He was joined by Clint Gees younger brother, Collin, and the man who beat him in New Braunfels, Bret Little. Collin and Bret would advance. Heat #2 included Stefan Schriewer, Corey Whitley and Clint Tompkins. Whitley just missed landing a huge BS 180 off the kicker that would have surely secured him a spot in the finals. Schriewer and Tompkins made it through to set up a battle for the podium with mini-Gee and Bret Little.
Before the wakeboard finals, the four top skaters took to the rails for a best trick shoot-out. The competition was stiff which made it tough for the judges which included last years wakeboard champion Ross Skrudland (unable to defend his title because of an injury) and Texas based wake icon, Pat McElhinny. Collin Gee fell twice but was able to stick a Back Board Shifty to Back Lip to lock down 3rd Place and a check for $200. Clint Tompkins, who won TWT stop #1 at Gilley's-Dallas in February, took second in Austin with a clean Front Board Slide down the 40 foot box with a Shuv out and took home $300 cash. First place went to Bret Little, who stoked the crowd when, on his final run, he nailed a clean Front Board Slide to Back Board and FS Shuv out for the win. Little has killed it all year on the Texas Wakeboard Tour taking 2nd in Dallas and 1st in Lubbock. He added $750 to his TWT winnings for 2008. All three skaters also received beautiful custom, chrome Longhorn Rail Jam trophies designed and manufactured for the Texas Wakeboard Tour by Josh Norris at Lucky Devil Designs.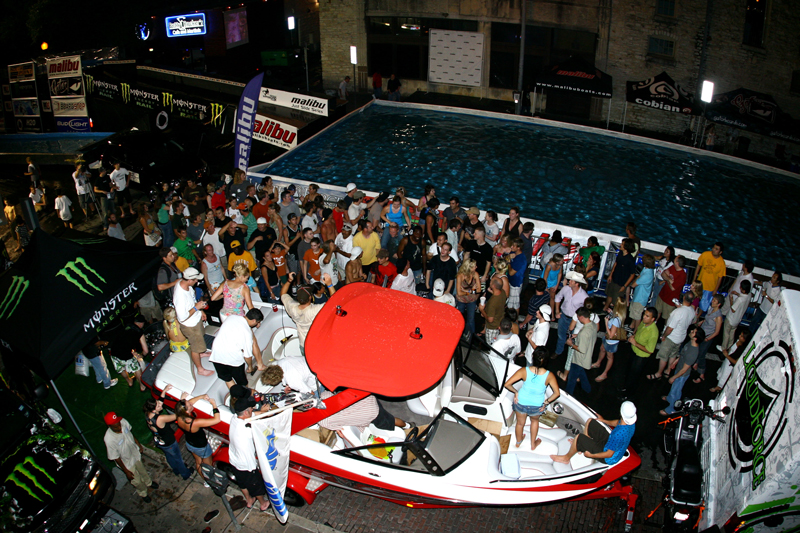 The wakeboard finals got underway around 8:45pm. It would feature two locals, Clint Gee and Lucas Snyder, plus the visiting pros, Kyle Rattray and Scotty Mackey. The street was buzzing with activity and the nearby balconies on 6th Street and Trinity were packed with onlookers. All four finalists attacked the Monster Energy rail and three took runs at the big air kicker, which is always a huge crowd pleaser. It was Clint Gee's first run, a clean Back Board to Back Lip 90 out that was good enough for third place, a custom trophy and a check for $250. 2nd Place went to Gator Boards pro rider, Kyle Rattray who rode smooth all night and stuck the same trick as Gee but rode away a little cleaner in the judges eyes. Rattray would take home $500 and a custom trophy for his efforts. The "Monster" check for $1000 went to the guy from a land down under, Scotty Mackey. Mackey actually came to the event as part of the rail jam set-up crew, but brought his board with him and wanted in on the fun. He blasted huge airs all night out of the kicker pool, almost landing a Front Side 720, but it was the stylie Back Lip over the Monster Energy box/rail with a BS 90 out that got him the win. He earned the rest of the night off to celebrate!
In addition to Malibu Boats and South Point Nissan, this free event was made possible with support from Monster Energy Drink, Liquid Force Wakeboards, Woly Board Company, Gator Boards, Spy Optic, Bud Light, Cobian, Ten 80 Clothing, TBKS, Boardstop.com, H20 Clothing, Lucky Devil Designs and local Malibu dealer - Central Texas Watersports. Media partners include Alliance Wakeboard Magazine, Wakeboarding Magazine, Wakeboarder.com, Wakeworld.com, TheLiquidCircus.com and Austin's 101X FM Radio Station. The event benefited the ESSCA.
Special thanks to Bob Woody and the ESSCA for helping make this third annual event a big success.
View additional event photos at www.swamistudios.com and www.smoothimage.com
2008 Longhorn Rail Jam – Austin, TX
Round-by-Round Results
WAKEBOARD
Heat #1 – Top two (2) advance to finals
1. Kyle Rattray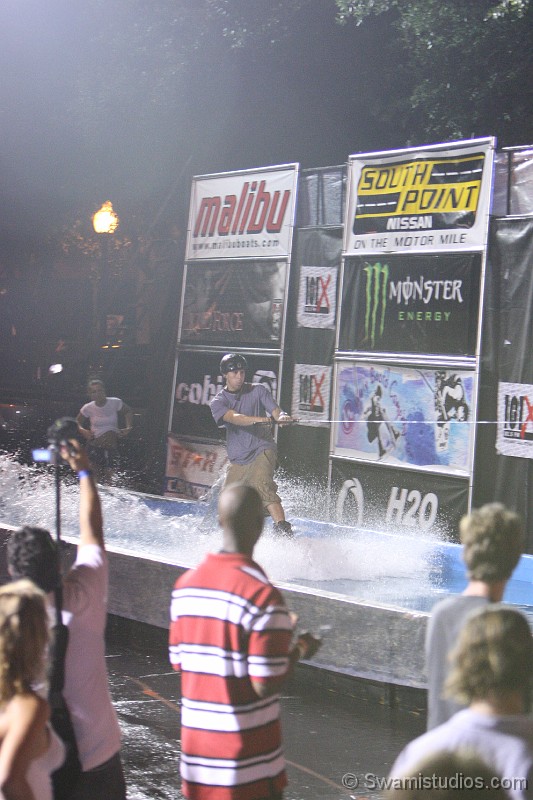 2. Lucas Snyder
3. Gabe Lucas
4. Billy Garcia
Heat #2
1. Scotty Mackey
2. Clint Gee
3. Hank Carter
FINALS
1st Place – Scotty Mackey - $1000 + Trophy
2nd Place – Kyle Rattray - $500 + Trophy
3rd Place – Clint Gee - $250 + Trophy
WAKESKATE
Heat #1 - Top two (2) advance to finals
1. Bret Little
2. Collin Gee
3. Ouray Yarbrough
Heat #2
1. Clint Tompkins
2. Stefan Schriewer
3. Corey Whitley
FINALS
1st Place – Bret Little - $750 + Trophy
2nd Place – Clint Tompkins - $300 + Trophy
3rd Place – Collin Gee - $200 + Trophy